Celebrating a Record-Breaking Year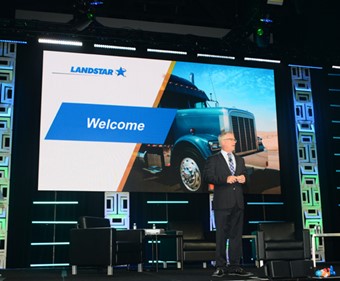 2022 Landstar Agent Convention
Landstar President & CEO Jim Gattoni shared highlights of the company's recording-breaking success in 2021 during the general session of the 2022 Landstar Agent Convention earlier this month. A record number of million-dollar independent sales agents attended the event this year, held in Orlando, Florida.
In addition to celebrating Landstar's most successful independent agents on their outstanding revenue performances in 2021 and contributions to a record year for the entire company, the convention was a chance to provide agents with valuable business insights and networking opportunities.
The three-day event kicked off with a vendor expo, and on the following day agents heard from a panel of industry analysts, and keynote speaker Phil M. Jones who shared "The Magic Words for Influence and Impact." Agents, agency staff and their families enjoyed gathering together in person, optional excursions, a concert featuring Big & Rich with Cowboy Troy, and two awards ceremonies.
Read more: LANDSTAR