Hitting the Road and the Books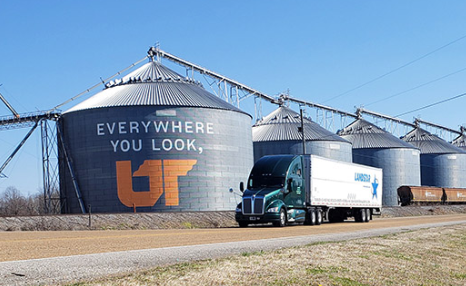 When independent owner-operators lease to Landstar, they choose the freedom to run when and where they want to travel. This freedom, along with support from Landstar, provides endless possibilities for business growth. And for some entrepreneurs that means taking the opportunity to further their education.
The Road to Success magazine recently spoke with Landstar Business Capacity Owner (BCO) Jason Mollett about his experience running a business while going back to school. Mollett has earned an associate degree, bachelor's degree, and is currently working on his master's degree, all while hauling loads as an independent owner-operator leased to Landstar.
How did you get started in the transportation industry?
I began my career in the U. S. Army and learned how to drive heavy equipment during that time, so when I got out I decided to get a commercial driver's license (CDL). I spent a few years working as a company driver before starting my own business as an owner-operator in 2006. I leased on to Landstar in 2013, and the next year I went back to school to complete my associate degree while still driving my truck.
What made you decide to go back to school?
At first, getting my associate degree was mostly a point of pride – I knew I was capable of it, so I went for it. I enrolled part time in an online program from Central New Mexico Community College. But I treated it more like a hobby, took my time and enjoyed the process. After I finished, I was motivated to keep going and, in 2020, I started working on my bachelor's degree through the online program offered by the University of Tennessee at Martin (UTM). This time, I was more motivated and chose to enroll full time. When I graduated with my Bachelor of Arts in interdisciplinary education in 2021, I figured "why stop here?" So, now I am working on my master's degree in strategic communications through UTM.
Read more: LANDSTAR