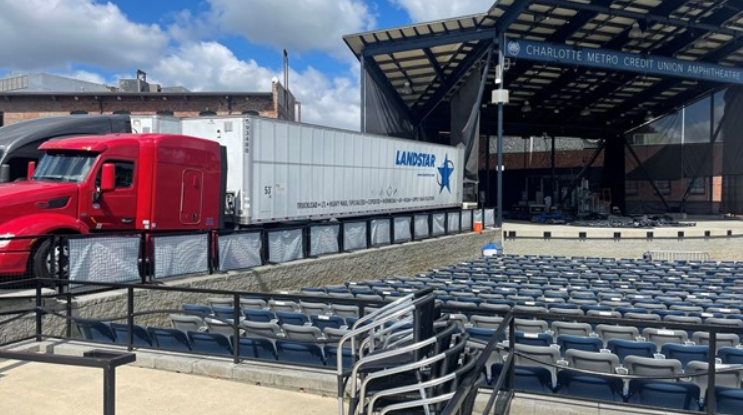 Live Entertainment & Event Transport Hit A High Note
After a year and a half of canceled events, concerts and shows, the live entertainment business rebounded and then accelerated following the COVID-19 pandemic, according to Live Nation Entertainment, a U.S.-based global leader in live entertainment promotion, and Landstar customer.
In February 2022, Live Nation reported in its earnings release that after restarting its concert business in the second half of 2021, the company ended the year with "a record pipeline of concerts, ticket sales and advertising commitments for 2022," as stated by Live Nation CEO Michael Rapino.
In August 2022, Rapino said the company "promoted more concerts, had more fans attend shows where they spent more money, sold more tickets and enabled brands to connect with fans at a scale we have never seen before" in Live Nation's second quarter earnings release.
Tour freight business returning
The return of events means the return of event freight. Rob Johnston has been an independent Landstar agent for nearly 20 years and a large part of his business is focused on event, entertainment and tour freight. He says he has experienced a resurgence in the business over the past year after tour freight dried up in 2020.
"My business didn't go under during the pandemic, but 2020 was pretty much a wash for me from a profit standpoint," said Johnston. "Now it seems like everybody is going back out on the road. We're talking with production company customers nearly every day as they move forward on shows for the remainder of this year and into next year."
In addition to tours, Johnston said freight for conferences, festivals and even new immersive experiences like Beyond Van Gogh, which is marketed as "a unique multimedia experience," has picked up. While these kinds of events don't require as much ongoing freight coordination, the "one-offs," as he calls them, still provide steady business for Johnston.
Johnston also observed an uptick in business capacity owners (BCOs), Landstar's term for independent
owner-operators leased to Landstar, who are interested in hauling tour and event freight for his agency, which he said is good, given the increase in business. "Without a driver, I'm worthless to a client and without a client, I'm worthless to a driver. We're worthless without each other," joked Johnston.
Read more: LANDSTAR