Technology and Relationships – Two Links Your Supply Chain Needs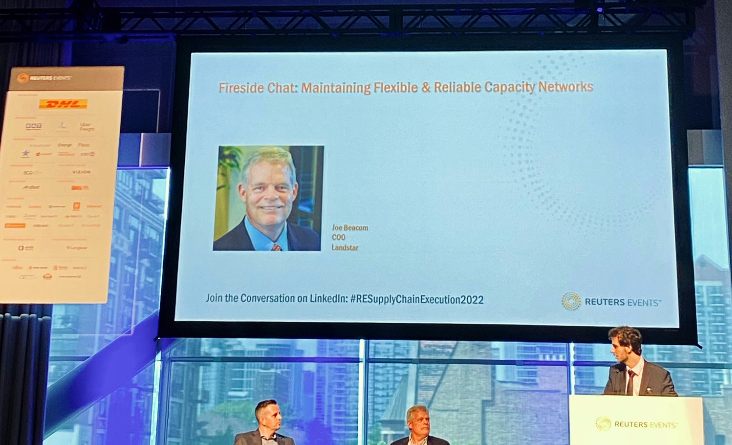 When choosing a transportation company, technology matters – but so do the people behind the tech
When managing freight transportation, the use of technology — a transportation management system or shipment visibility mobile app — is a great way to save time and increase efficiencies for everyone involved in a shipment. However, shippers should use caution in placing too much reliance on technology alone in managing a dynamic supply chain, putting themselves at risk in instances when a shipment doesn't go according to plan.
The balance of technology and relationships was one of the topics covered during a live session at Reuters Events: Supply Chain Execution 2022, featuring Landstar Vice President and Chief Safety & Operations Officer Joe Beacom and Landstar Independent Agent Brandon Coburn.
During the session, Beacom noted that to maintain a flexible supply chain, customers benefit from having solid relationships with freight agents who have access to the technology and tools that provide planning and pricing information, and freight visibility.
"It ultimately boils down to trust. If you trust your providers and you trust your customers, you're going to have open dialogue." Coburn said in an interview after the session.
Coburn elaborated that it's the information from the technology provided by Landstar that enables him to have open dialogue with customers and provide information to them quickly.
"An open exchange of ideas and information allows the customer to position themselves as experts within their own company, in a field they may not be familiar with. Empowering the customer with that type of information opens up a new level of trust, flexibility and collaboration that makes everything work better."
Beacom reinforced the idea that technology should not replace the relationship between freight agent and customer. "I think technology has done a lot for us in the last several years, as we've developed different ways to share information." Beacom said. The intent of developing technology isn't to make shipping a DIY task for the customer, but instead, to help the customer move their products more efficiently.

Read more: LANDSTAR