Lessons from a Kentucky owner-operator committed to delivering relief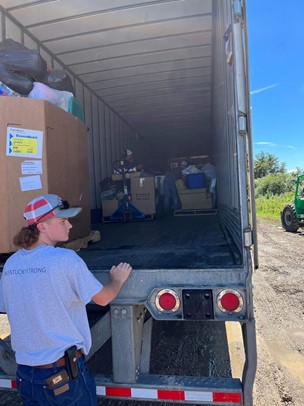 Landstar BCO Jim Walden's home state of Kentucky has faced a number of extreme weather events over the past year.
This month, historic flooding in eastern Kentucky caused significant damage in the state. In December 2021, a band of tornadoes moved across the state, leaving behind destruction and loss just two weeks before Christmas. When Walden heard there was a need for a truck and trailer to haul supplies to an impacted area, he jumped at the chance to help – both times!
"Back in December, I heard through my church that help was needed delivering donations after the tornadoes, but this time, when I saw the news, I took the lead and started making calls and organizing a donations drop-off point myself," said Walden.
The independent owner-operator reached out to Landstar Corporate for help securing a trailer for the charitable effort. He picked up the 53-foot van trailer on Thursday, Aug. 4, and by Saturday morning when he was ready to head out, the entire trailer was full of water, clothing, supplies and more for the victims. Walden delivered the donations to the Knott County Sportsplex in Leburn, Kentucky, which was operating as a collection site and shelter for flood victims.
"I learned from the previous experience that you can't count on there being any equipment to help with unloading, so this time we packed supplies on pallets. I took my own pallet jack and hand trucks to facilitate the unloading."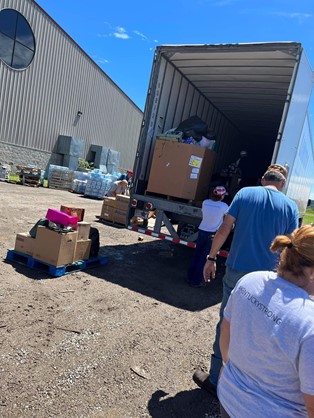 According to Walden, his commitment to safety as a professional truck driver played a big role in delivering the supplies. "I had to drive through areas that had been underwater and with debris everywhere. I took things very slow and was constantly scanning the road for anything that could cause damage to my truck." He cautioned that even when operating safely there is still a chance of incurring damage to equipment. "In December, I ended up with a nail in one of my tires. I paid to have it fixed. It was a small price to pay for helping people when they needed it."
Read more: LANDSTAR